Working...

Muffins With Mom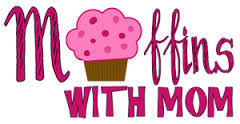 We would like to invite all 'Moms' and their K-2nd Grade children
to a relaxing morning of breakfast and STEM
(Science, Technology, Engineering, and Math)!
Ladies and students will begin the morning
with a delicious breakfast of muffins and juice.
After breakfast, Moms and children
will have the opportunity to participate in a variety
of STEM activities together!
Date: Friday, October 12, 2018
Time: 8:30-9:15
Place: Elementary Gym
(Donuts with Dad will be held November 2, 2018.)
Activities provided with Title I Funds