Working...

Hot973 Tailgate Tour at West Central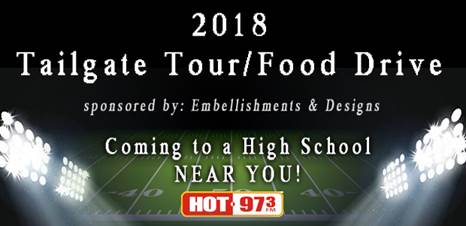 Friday, 9/14/18
Hot973 is making a stop at West Central on Friday, 9/14/2018. Hot973 will be broadcasting live at the football game from 5-7 pm. While they are at the football game, they will have games, prizes and music. Also, while they are there, they will collect nonperishable items for area food pantries.

The high school that collects the MOST items while they are at their football game will win a 2 hour dance party hosted by Hot973. The winning school can use that dance whenever they want before the next year's football season. West Central won that dance party 2 years ago, let's see if they can do it again!
Remember your non-perishable items and come out between 5 - 7 pm on Friday night!