Working...

Mystery Frog Identified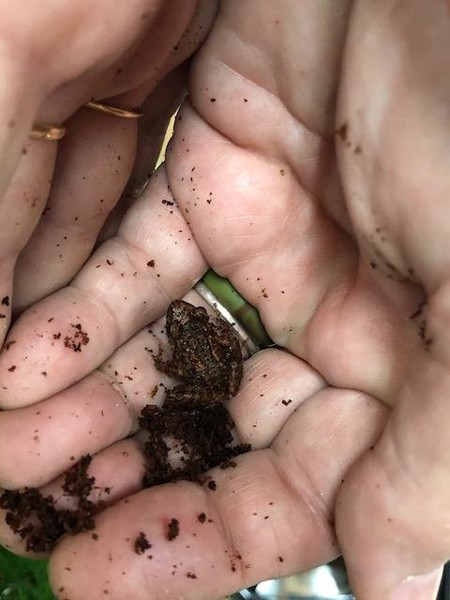 Tulip the Traveling Tree Frog has been officially identified by Scientists at the Field Museum in Chicago.
Eleutherodactylus Planirostris is Tulip's scientific name. He belongs to a group of Cuban and South American tree frogs. The common name of Tulip's group is "The Greenhouse Frog".
According to Dr. Alan Resetar of the Field Museum Of Natural History in Chicago, the name "Greenhouse Frog" is very appropriate because this species make their homes in the soils of warm and humid green houses in the U.S.. This is because greenhouses are much like their native homes in Cuba and other Caribbean Islands. They are accidentally scooped up in the soil or ride on the leaves of plants when the flower growers ship plants to other countries.
Dr. Resetar believes this is how Tulip started his big travel adventure.
As we reported earlier, Tulip came all the way from Holland in a shipment of tulips, and arrived in a flower shop in Galesburg last month.Here is the scenario pieced together by the scientists working on the case:
The first part of Tulip's story began in Cuba where he was living in the soil or on plants of a "dirt farm". A dirt farm is a place that exports soils for the greenhouse industry. Many countries like Holland and Japan( which are the two largest exporters of flowers and bulbs), import the excellent soils of South America and the United States because their own soils are not good for tropical plants. Tulip rode to Holland in a shipment of soil, and once there lived a secure and happy life in a greenhouse. Then one day, he again was accidentally caught up in a shipment of tulips and daffodils that was being shipped to America- to a flower shop in Galesburg Illinois! There he was discovered, and turned over to Mrs. Rankin's science classroom where he now resides in a deluxe frog condominium and has a pretty sweet life.
If this is the case, Tulip the Frog has traveled across the ocean twice: once to Holland, and then back over the sea to America!
Tulip's species is adaptable to dry conditions, and eats small insects and tiny crustaceans. Tulip is full grown and is only about 1.5 to 2 centimeters in size! Females lay their eggs in bunches in the soil or on the undersides of leaves, even leaves that have fallen onto the rain forest floor. The baby frogs don't go through a tadpole stage like other frog species- they emerge from their eggs fully developed and looking like tiny versions of their tiny adult parents!
West Central is happy to host this happy and adorable little traveler and would like to thank Dr. Resetar and the Field Museum for all the work they have done.
Future plans for Tulip include a blog about his life in the classroom, and a possible children's book authored by WCMS middle school authors.